"Motion Sickness"?
Place your mouse on
my "MotionRx" Pill







R.T.M.A. / Rock Valley College
Precision Machinist Apprenticeship
Graduation Night - June 4, 1998


After four years of classes at Rock Valley College, and 8,000 hours of on-the-job training at Advanced Machine & Engineering Co., in Rockford, Illinois; on June 4, 1998, I graduated with Journeyman Certification from the RTMA / RVC Precision Machinist Apprenticeship.

Although I enjoyed my walk to the podium to accept my RTMA Journeyman Certification, the highlight of the evening for me was when they announced the award for the highest Grade Point Average in the graduating class. After four years of classes, I had fulfilled two major goals I had set for myself. I had graduated with a 4.0 GPA, and by default, I had graduated at the top of my class. Ahhh, savor the victory!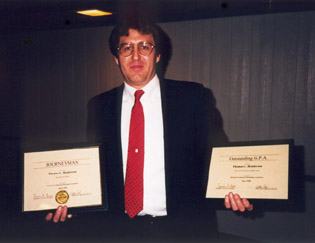 See my "RTMA Journeyman Certification"
or my "1998 RTMA Outstanding GPA Award"
by "selecting" the certificate in the photograph above.

(Click On A Certificate!)